SACRED CIRCLES.

A BOOK ABOUT THE MANDALA BY CONTEMPORARY ARTIST BARRY STEVENS
Updated Autumn 2009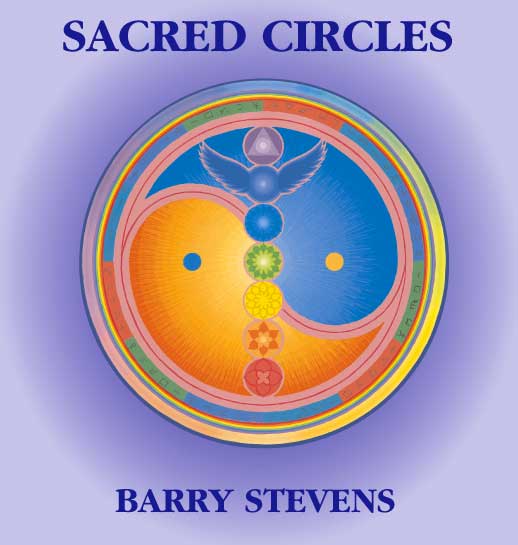 Here is some information about a small book that I originally wrote in the late '90's and have updated Autumn 2009.
It has several sections as listed below. The Index, Introduction and Section 1 can be viewed on this web site. As from March 2015 I am making it available via MagCloud. The first edition of the book came together about 1999 as a result of a long term collaboration with Mike and Claudia Booth who are well known for their work with Aura-Soma and features mandalas by them and myself. The second edition came together in 2009 and has just my mandalas as illustrations.
Sacred Circles by Barry Stevens featuring mandalas by the author and also Mike and Claudia Booth

Sacred Circles by Barry Stevens
featuring mandalas by the author.
Sacred Circles is now available in PDF format for £3 UK Customers
The PDF available direct from me as distinct from MagCloud has an extra section of interviews and is 117 pages long as distinct from 82.
Sacred Circles is now available in PDF format for £3 USA & Rest of World Customers
Sacred Circles is now available in PDF format for £3 EU Customers
On receipt of payment I will either email you the PDF file or refer you to a web page where you can download it.
When you send payment I will ask you to state which option you prefer.


Paypal converts the total $'s to your currency at the end of the transaction. To see the relevant currency exchange rate see http://www.xe.com/
Paypal accepts payment from all major credit cards.
INTRODUCTION (4 SIDES).
Considers the inspiration which underlies and overlights mandala art.
THE MANDALA IS A VISUAL REPRESENTATION OF THE ONE.
VISUALISATION OF UNITY
ACTIVATES THE PROCESS OF PURIFICATION.
THE MANDALA SYMBOLISES THE CENTRE OF CONSCIOUSNESS,
WHICH IS THE BEGINNING AND THE END,
THE LIGHT OF WISDOM.
(BS 1975)
SECTION I (8 SIDES).
Includes sub sections on INDIA and IONA, how the author came to paint mandalas,
and how Mandala Prints came into being.
Mandalas are universal symbols and are found all over the world. As an art form and as aid to meditative practices they are particularly prevalent in Indian and Tibetan cultures. If you travel in India you will find mandalas everywhere in the sacred art of the temples and their architecture and also in art, design, crafts and creative expression in general.
SECTION II GALLERY (31 SIDES).
Includes (15) colour designs, (8) black and white designs and accompanying commentary.
SECTION III WORKSHOP
(22 SIDES...4 sides of designs and 8 of writing - extended Autumn 2009).
Explores the process of creating a mandala, in the context of artistic expression and meditation.
There are many approaches to drawing and painting mandalas and I would like to put forward the idea that it is very much a matter of each individual exploring their own creative process. Before working with mandalas I was very interested in creative expression in general and the visual arts in particular.
SECTION IV THE WHOLING HEALING JOURNEY (6 sides - extended Autumn 2009).
A general overview which considers the mandala as part of the wholing and healing process.

"There is a power in the Universe working for enlightenment and liberation.
We call it Sadashiva, who is ever present in the hearts of men.
It is the unifying factor. Unity liberates. Freedom unites."
"Just be one with yourself and you will be one with all, at home in the entire universe."
(Nisargadatta Maharaj)
SECTION V OLD WRITINGS/POEMS (7 sides).
A collection of mystical and philosophical writings
from the '70's and '80's.
When there is silence,
a higher vibration is attained,
than when there are words.
Silence, emptiness and stillness,
communicate the Truth more completely,
than any externalised word or deed.
The "Tao Te Ching" says,
"Better stop short than fill to the brim."
REFERENCES BOOK LIST ETC
81 pages in total