MANDALAS PAINTED AND PUBLISHED BY BARRY STEVENS
Beautiful, colourful and luminous mandalas by contemporary mandala artist.
Mandalas are universal images which can be found all over the world and beyond. They exist in the West, notably in the rose windows of cathedrals, and other forms of sacred art. They have been explored and developed to an exceptional degree in the East, especially in the Tibetan and Indian cultures and they are widely used in American Indian rituals. Mandalas are found everywhere in human culture especially where awareness of unity is prevalent. They occur abundantly in nature from the infinitely small as in atomic structures to the infinitely large as in galaxies. They are widely used for meditation and healing.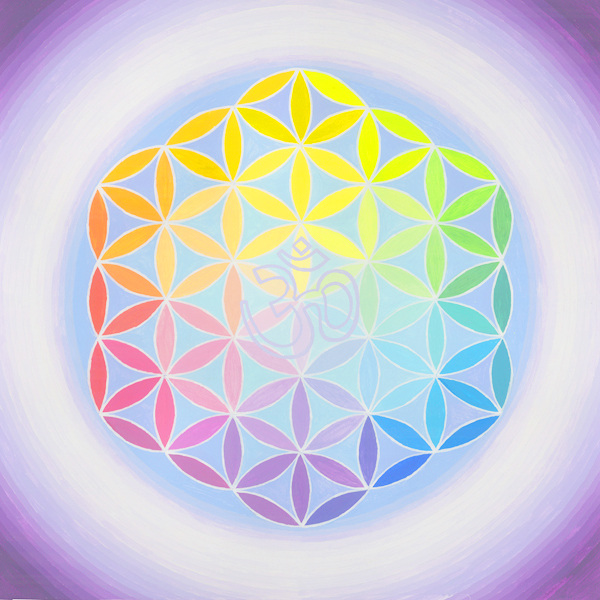 The mandalas presented on this site have developed over a period of about twenty five years and are a record of a journey which is both personal and transpersonal. It is a personal journey in that the mandalas were painted at a particular time and place in my life and a transpersonal one in that the principles underlying mandalas are universal and timeless.
This mandala links page is part of the site
MANDALAS BY BARRY STEVENS FOR MEDITATION,HEALING AND CREATIVITY.
---
---
Mandalas in Spain by Shakti Genaine
---

http://www.mandalascapes.com/
Welcome to the Prem Shashi Mandala Gallery a kaleidoscopic experience of serenely joyful mandalas for meditation, healing and decoration.
---
Simple mandala designs for use as a therapeutic activity for the elderly or others who would like to begin exploring the magic of mandalas.
---
"Welcome to Art of Peter J Gorman,
a glass artist working in the inspirational medium of Stained Glass Mosaic Mandala. "

---

http://www.mandala-marlisladuree.com/
These Mandalas that I have painted for you are passed on from the cosmic dimension and wish to touch your heart.
They will give your mind powerful energy, brilliant light and peaceful love.
Your spirit will get like a beautiful flower, which opens its colorful petals to the love for the creation of the Universe.
Oil paintings by hand on canvas.
---
Adam Boyson Contemporary Mandalas
A stunning contemporary exploration of the ancient mandala form. View the galleries and order prints. Secure on-line payment.
---
Tantric meditative fine art for healing and higher consciousness, a contemporary celebration of the symbolic sacred union of our divine masculine (method) and feminine (wisdom) principles.
http://www.jeweledlotus.com
---

"A la recherche des mandalas": "Mandalas: discovering, meaning, using, galleries, coloring mandalas, forum..."
---

David Buxton - Mystical and Mandala Art
Fine Mystical and Mandala art inspired by Wicca
and the World in which we live.
---
http://www.earthmandalas.com
Beautiful mandalas made from photographs of nature.Send blessings to those you love with free online greeting cards.


---

http://www.paxnidorf.com
Pax Nidorf. Life Color Mandalas from people's photos for only $25.


---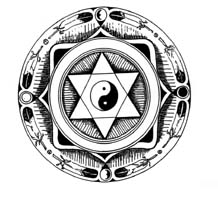 Latest mandala link. Mandalas by Nancy Groover.
http://www.mandalas.co.uk/ConWis.html
---
http://www.mandala-universe.com
"The universe according to Hindu sages was created by the sacred sound of Aum. The Sri yantra symbol pictured above, represents the frozen pattern of this sacred sound of Aum properly intoned by a yogi. The Sri Yantra is the most holy symbol in the Eastern tradition of sacred art. It represents enlightenment, the merging of the individual soul back into the cosmic sound of Aum heard deep in meditation. It also symbolizes the feminine principle of Consciouness, the Divine Mother as the creative "Aum [atomic] vibration" that continuously creates and recreates the phenomenal universe."
Judith Cornell
---
http://www.mandalazone.com Experience original mandalas reminiscent of ancient spiritual art, order a print of a mandala, or commission your own unique, personal mandala for meditation, spiritual focus and inner peace. Also, browse through many interesting links and participate in our mandala discussion forum.
http://www.mandalabooks.com/ Mandala Books offers an eclectic selection of wisdom literature, Eastern and Western, with sidelines including rare incense, sacred music, dharma items, and meditation tools.
http://www.veenomandala.com Draw a circle, mark the center, and the magical dance begins! "Veeno is a gifted artist who brings a great juiciness to the traditional Eastern art of Mandala-painting. It is simply a joy to meditate in front of her creations."
http://www.mandalaproject.org/ The mandala project which features the artwork of many mandala artists.
http://www.mandali.com. Monique Mandali is the creator, publisher and distributor of (so far) 3 mandala coloring books.
http://www.abgoodwin.com/mandala/ Clare Goodwin's Mandala Page. "An exploration of the mandala as a tool for growth and the discovery of the self. Includes an extensive guide to mandala resources in print and on the World Wide Web."
http://mandala.co.uk A comprehensive exploration of the mandala.
http://www.mandalas.ch A new site soon to have an English version,.
Home Page