MANDALA WORKSHOPS AND/OR CELTIC PILGRIMAGE

Here are some general ideas and photos concerning coming here to Pembrokeshire, Wales to take part in a Mandala Workshop and/or Celtic Pilgrimage. The balance of activities can be tailor made for the person or persons interested. Prices



Mandala Workshops, Hazeldene, Boncath, Pembrokeshire SA37 0JW Tel: 01239 841381
To see exact location
Hazeldene is a Dorma Bungalow on the edge of the village of Boncath. As you can see from the above photo it is set in trees and has a nice peaceful woodland feel. There is a front and back garden and it is beside a small B road. It is within easy walking distance of the local Village Shop, Post Office and Inn. There is not much traffic and it is fairly quiet most of the time. I have been living here since 1988 and have found it to be a conducive place to pursue my meditative and artistic interests. Boncath is in the county of Pembrokeshire and situated about 6 miles from the famous Pembrokeshire Coastal Path and three miles from The Preseli Mountains. Pembrokeshire has one of the largest National Parks in the UK and is an area of exceptional natural beauty. It is also rich in Sacred Sites both Christian and pre Christian. To get to most of the places listed on the site requires transport. However if you wish to have some "car free" days and still go exploring you can walk to a variety of beautiful places from the house.
Please note that when you click on many of the links below a new window opens up.
To return to where you were close the window.
Recent photographs of local sites
In terms of accommodation, I can offer two bedrooms which consist of:
1. Downstairs bedroom. It looks out onto the front garden and can sleep one or two. 2. An upstairs loft conversion (images
1
,
2
,
3
) which looks out onto the back garden and beyond that to grazing fields. It can sleep one, two or more depending on how much space and privacy are required. Also there is a hall, kitchen and bathroom as well as my own studio/office and living space. When giving workshops here I arrange the space according to the specific situation and the gallery doubles as a studio.
Gallery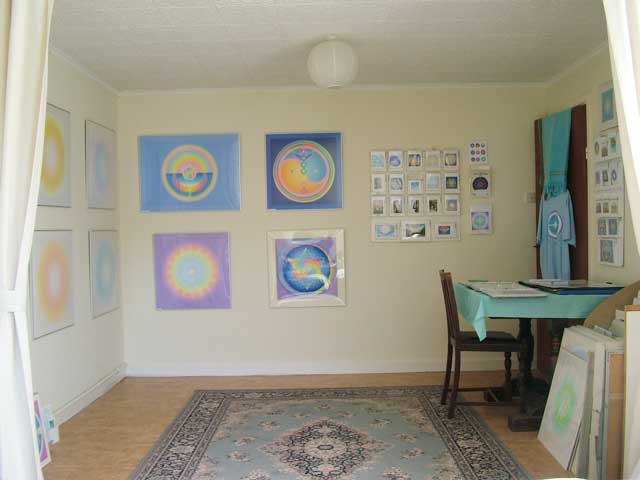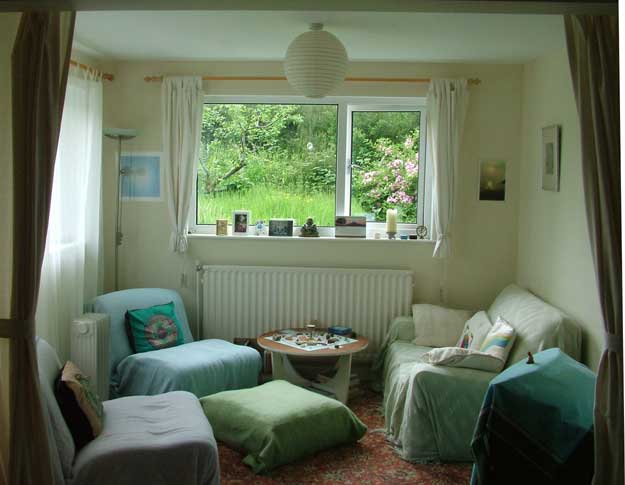 with Sitting room,
One dawn I took this rather spectacular photograph called Pembrokeshire Dawn in front of the house
and Pembrokeshire Sunset was taken about a mile away.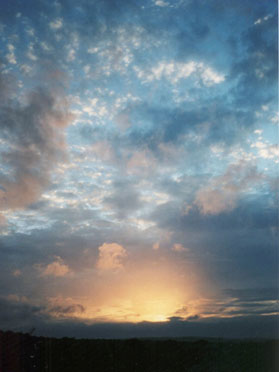 For those coming here to work with mandalas the day can be planned according to your specific requirements. You may wish to spend most of the day working with mandalas or for instance work with mandalas in the morning and go exploring in the afternoon. My intention is to be flexible and work out with each individual or group what is suitable for them. If you wish to visit to enjoy the general ambiance without actually painting mandalas then that is an idea I am also open to. So here are a few introductory ideas about visiting here. I intend to add more text and pictures in due course. For details of pricing click here. Other Resources: I have a good collection of books on Astrology, healing, meditation and related subjects which visitors are welcome to peruse when here.